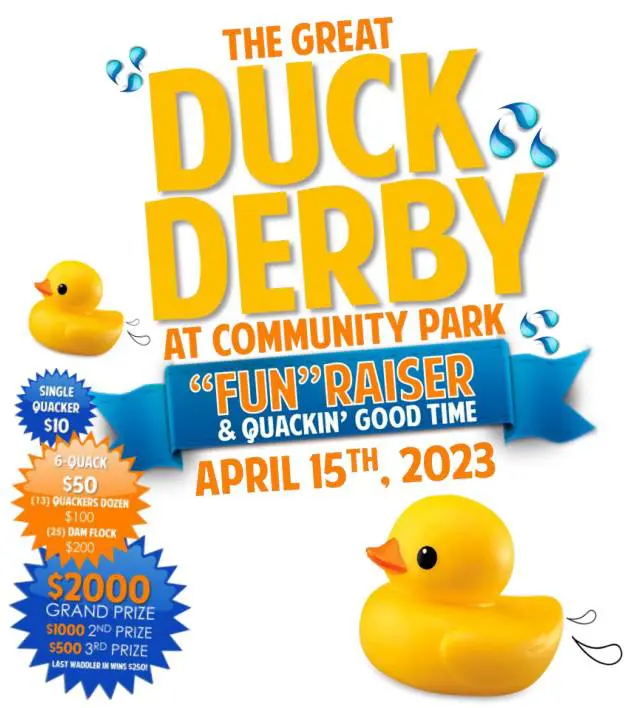 Complete the Duck Adoption Registration Form and click the "SUBMIT" button. Your receipt and list of duck numbers will be returned by email. You are not required to be present to win.
BEST OF LUCK TO YOUR DUCKS
LOCALS HELPING LOCALS
IN NEVADA & ARIZONA
River Fund, Inc. is a local non-profit agency providing direct emergency and crisis services for individuals and families in Bullhead City, Ft. Mohave, Golden Shores, Golden Valley, Laughlin, Mohave Valley, Needles, and Topock.
As an alternative, donors have the option to designate their contributions directly to a local non-profit organization of their choice. The River Fund also provides grant funding opportunities to other non-profit organizations in the region, thereby expanding the nature and scope of available services to those in need. Designated contributions and River Fund Grants are not necessarily limited to those service areas specific to individual and family crisis services.
The River Fund, Inc. received its non-profit 501(C)(3) status on July 23rd, 2010. Through September 2022, River Fund has impacted more than 75,000 lives with immediate emergency crisis and hardship assistance totaling more than $3,285,000.00 since opening its doors twelve years ago.
The primary underlying need for assistance can be attributed to calls for energy assistance. Other basic needs include rent money, food, temporary shelter, medical and pharmaceutical needs, vehicle repairs, and similar issues, resulting in many requests. Major problems such as homelessness, domestic violence, cancer, memory loss, veterans assistance, and disaster assistance caused by COVID-19 and its related economic downturn are now growing concerns and are top priorities at River Fund.
Contributions to River Fund, Inc. enable us to provide many services and assistance to our residents in their time of need. A Board of Directors consisting of thirteen volunteers from the business communities on both sides of the Colorado River, five staff members, and one volunteer bookkeeper provide the leadership and operational services, and "River Givers" are the heroes that make it all possible.
"River Givers" include everyone that chooses to participate as a donor, either through payroll deduction at their place of employment or those that choose to make a one-time or annual contribution.
River Fund, Inc., is a Nevada 501(c)(3) non-profit organization incorporated in June 2010 and accepts contributions and donations which may be deductible according to the provisions of section 170.c. of the Internal Revenue Code of 1986, U.S.C. 170.c. Our Federal Tax Identification Number is 27-2937370.
Also, River Fund, Inc is a 501(c)(3) non-profit public charity called a Qualifying Charitable Organization for the Arizona Charitable Tax Credit program. Our Q.C.O. Code is 20156. Donations are tax-deductible to the extent permitted by applicable Federal and Arizona law (A.R.S. 43-1088). For more information, consult your tax advisor.